DOROTHY Engagement with Societies
---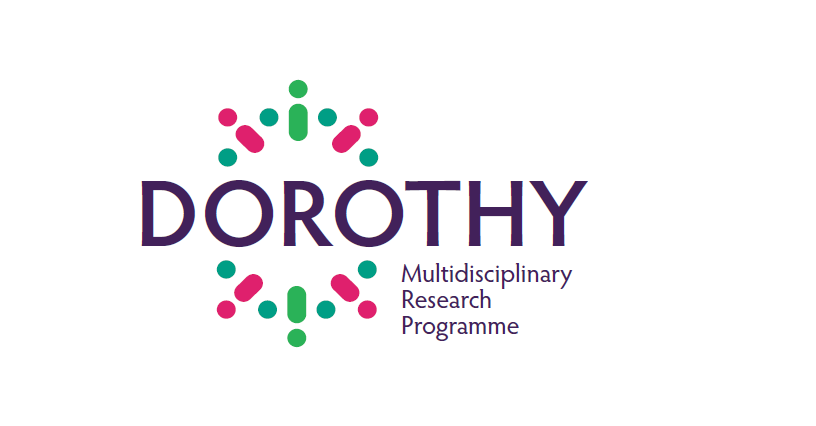 Gap in interdisciplinary research 
While relevant scientific research has been funded through numerous calls, there is a gap in terms of an interdisciplinary research platform on public health crises to tackle all their implications, including societal ones.
DOROTHY fills this crucial gap by providing a public health interdisciplinary research platform, which also has input from the non-academic sector and includes societal perspectives and solutions. By welcoming fellows from all disciplines, we will proactively pioneer an approach to public health crises that goes beyond tackling medical aspects only.
Furthermore, DOROTHY's excellence does not only concern the development of top-class science, but also channeling findings to stakeholders, including policymakers, and the population at large. That's because, in an age where unscientific pseudo-theories can be easily circulated, the impact of sound research needs to be maximised through ambitious and multi-targets approaches.
'Triple-i-dimension'
Tackling public health crises is dependent on an interdisciplinary, intersectoral and international approach. DOROTHY is built on the 'Triple-i-dimension', and interdisciplinary, intersectoral and international elements can be seen in a variety of elements of the programme, such as in the structure of the programme, the very composition of the Steering Committee, the DOROTHY training programme, and the dissemination and communication plans.
Interdisciplinary aspects:
The aim is to build a cohort of 25 excellent public health scientists with a wide variety of backgrounds. All disciplines are eligible, provided that the projects relate to public health crises, including but not limited to epidemiology, engineering of materials, diagnostic tools, psychology, economics, social history, education, sociology, political science, medical and health humanities, and philosophy. Although it is acknowledged that applicants may have a specialist background and core scientific skills, they are encouraged to submit interdisciplinary projects, where there is room for them to learn additional scientific expertise and skills. This will be evaluated at peer-review stage. By virtue of this variety of expertise, DOROTHY will be a truly multidisciplinary platform.
Transfer of Knowledge
During training events, workshop-style modules, designed to facilitate interdisciplinary Transfer of Knowledge in small groups, will be regularly proposed. Training events will focus on teasing out elements such as interdisciplinary approaches (e.g. peer presentations, interactive workshops). As a result of DOROTHY training events, which feature top-class sessions on policy communication and development, fellows from all backgrounds will be taught how to communicate effectively to policymakers and to audiences beyond their disciplinary field. Finally, in the context of prestigious interdisciplinary conferences, the submission of proposals by DOROTHY interdisciplinary panels will be encouraged.
Intersectoral aspects:
Intersectorality will result from substantial targeted exposure to policymakers and practitioners. All fellows will be encouraged to undertake a non-academic secondment, either during the outgoing or the return stage. All non-academic settings (e.g. non-profit, governmental, NGO, industry) will be eligible. Although applicants are encouraged to include a non-academic secondment at submission stage, it is also possible to include it when the project is already in its implementation phase. In this case, the supervisory panel will need to include a 'secondment supervisor' (non-academic), so as to include intersectoral approaches in terms of mentorship.
Finally, through the DOROTHY training programme, fellows will be trained to communicate with policymakers and other non-academic stakeholders, making their findings accessible and exploitable by a wide range of sectors. In this way, mutual learning and intersectoral knowledge-exchange will be actively facilitated. 
International aspects:
It is clear by now, public health crises tend to have a global dimension, Thus, narrow-scale national efforts to find solutions to global health crises do not provide the required answers, and therefore international efforts and collaborations are needed to tackle public health crises effectively. DOROTHY is built on the MSCA Global Fellowship model (adjusted to the programme), meaning that fellows will undertake an outgoing phase of 18 months to a HEI outside or Ireland, followed by an incoming phase of 18 months to an Irish HEI.

Throughout the fellowship, the fellow will be required to transfer his/her knowledge to these HEIs, thereby reinforcing the international collaboration between institutes. As a result of eligibility rules and dissemination efforts, the cohorts of fellows will be truly international, thus providing opportunity for international peer-learning. Furthermore, fellows will be encouraged to attend international conferences, where they will share their findings, being exposed to novel approaches and initiating new partnerships.